The Best Place To Buy Or Sell Secondhand Furniture, Coolers, Glasses, Bars And Decor
Search
Approximately 5 metre long bar for sale due to relocation only three months old. Professional bespoke build with wooden top and tiled along the front. Fantastic looking bar always commented on but new décor and look in our new location so up for grabs. BARGAIN!!!
£250 VAT Free Wall cladding available please contact us.
Rustic Bar made from solid reclaimed timber dating between 80-200 years old. This bar includes a chunky top, base with shelving as seen in the images. This Bar has a waxed top with Raw cladding exterior. We can make bars to any specification and in a variety of colours Raw wood and painted/distressed. Delivery fitting and Outdoor options available.
£2400 including VAT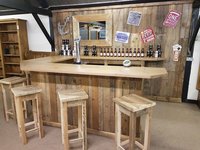 Approx sizes:
Length: 249 inches.= 6.32 meters
Width: 112 inches.= 2.84 meters
Angle: 65 inches =1.65 meters
Length: 116 inches.=2.94 meters
Excludes: chairs/ bar stools, glasses, tables, light fittings, beer handles and brass rail as shown on photo.
Original solid wood Pub bar available with internal storage.

Showing 1 - 11 of 11 items