The Best Place To Buy Or Sell Secondhand Furniture, Coolers, Glasses, Bars And Decor
Search

Easy use and cleaning: direct access to the bags in box thanks to the stainless steel and hermetic door, automatic defrost and
removable draining plate. A perfect hygiene: any risk of infiltration thanks to Vitop hermetic connectors. High resistant silicone tubes link the bags in box to the push taps.
A discrepancy of 10°C is ensured between the top and the bottom of the wine dispenser.
£299 +VAT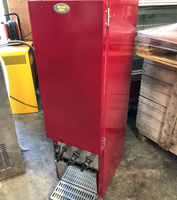 £995 VAT Free ono Showing 1 - 12 of 12 items